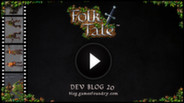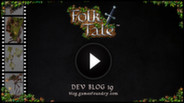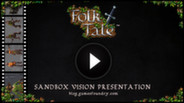 Folk Tale is a sandbox fantasy city-builder strategy game in which you lead a ragtag band of peasants in growing a small settlement into a thriving market town, while dastardly minions plot your downfall.
Release Date: May 30, 2013
Watch all 7 trailers
Early Access Game
Get instant access and start playing; get involved with this game as it develops.
Learn more about Early Access.
What the developers say:
"Folk Tale is in early alpha development. Currently the game provides a self-contained mini-campaign tutorial with its own story offering 1-3 hours of play time to introduce the world of Folk Tale and some of the gameplay features. Following launch we've been busy rebuilding the game to become a sandbox aimed at offering a huge amount of replayability, as well as implementing community feedback. Patches now include the Sandbox Editor that we'll be using to develop playable sandbox content.
As a development driven by community, we'd love you to join us in the forums - where we are active daily - to share your feedback and ideas for what you'd like to see included in the game beyond our own vision. Throughout development we'll keep you updated with regular dev blogs posted both in Steam Announcements and at
blog.gamesfoundry.com
.
The discounted Early Access price includes immediate access to the early alpha, regular updates throughout development, the digital retail version of the game, and all maintenance patches thereafter.
Thanks for considering supporting the team by grabbing a copy during Early Access. We have big plans for Folk Tale and thanks to players just like you we have a fully funded full-time team of 9 dedicated to developing an amazing game. If you choose to buy during Early Access, you'll be contributing towards expanding the team and helping us as we strive to win the crown of best fantasy city-builder."
Read more
April 19th, 2014


Today we're going to be taking a look at the Sandbox Player, accompanied by some of the composition work for the soundtrack. Not all the tracks used will make the OST, but are nice to listen to during longer videos.

We hoped to have the Patch 0.2.4 live by now, but at the eleventh hour as we were packaging and testing the patch to upload to Steam, we discovered a bug in the engine build we've been using. That bug was very quickly fixed by the engine developer. Unfortunately we now have to wait around 9-14 days for the next build to become available. You can track the latest status over on the Steam Forum.

For larger screenshots and more info, please visit http://blog.gamesfoundry.com/2014/04/folk-tale-dev-blog-22.html.


Sandbox Player
In the month since the last blog a lot has been added, and Sandbox is really starting to come together. For the first time we're able to "play" maps designed in the Sandbox Editor. I say "play" loosely at this stage, "mess around with systems" might be a more accurate description.
Construction is up and running, with several level one buildings and their associated professions available for
Peasant
training. Character's have unique faces, varying skin tones, and a few dodgy haircuts. Females are now fully trainable in all available professions. Lobbyists for the
Campaign to Stop Female Peasants Being Used As Cannon-Fodder
can lay down their protest billboards, as equal opportunities are finally with us.
To help get everyone started when Patch 0.2.4 arrives, we've published the
Sandbox Player Guide
on Steam, which we'll continue to update as development progresses.
City Walls
One of the most significant additions is the revised City Walls system, which can now traverse steep cliffs and rivers. Gatehouses, stairs, and tower siege defences are all in, but we'll leave those for you to uncover once the patch is published.
Hovering the mouse cursor over sections of wall and repeatedly hitting
U
on the keyboard simulates the impact of boulders from
Goblin Trebuchet
. Any idle
Peasants
will run to the wall and do their best to repair it before any larger enemies breach the walls.
Workshop and Engineer
The final profession for inclusion in Patch 0.3 ( we'll be adding more thereafter ) is the
Engineer
, capable of constructing ingenious traps and turrets in the fields around your village to help fend off any raiding parties. Engineers can be trained by building a
Workshop
.
LOD Models
Level of Detail models are a trick developers use to boost frame rate performance by reducing the complexity of 3D models as they move further away from the camera. We've now added in LOD models for all three tiers of building upgrades, and incorporated LOD into the character customization system. There's more work to do, for example on the terrain, but it's already starting to have an impact.
Feature Icon
7 comments
Read more
March 21st, 2014


Hey everyone. In this episode we take a look at how the Sandbox Player is shaping up, run through the Sandbox UI overhaul filling in some of the details of gameplay mechanics, before wrapping up with a review of new assets.

For larger screenshots and more info, please visit http://blog.gamesfoundry.com/2014/03/folk-tale-dev-blog-21.html.


Sandbox Player
The fixed build plots of the
Tutorial
are gone as promised, and free placement is in, providing precise control over the design of our village. We can freely move the building around; a green transparent cube means we're over a valid place for construction, while a red cube means we're too close to an obstruction. As you might expect we can also rotate buildings. We've also added a radius of influence, shown by the dotted circle surrounding the building ( see video ). Resources need to be located within this radius to be accessible by the building. Capturing multiple mines can result in a greater maximum output for the building.
Art Assets - UI
For Sandbox, we're overhauling the UI and adding new elements. As a multi-genre village builder RPG RTS, there's a lot of information to condense and optimize to reduce screen clutter, especially at lower screen resolutions. In fantasy 4X games you might be used to seeing resources on the top bar, for example wood, stone, and iron. We forecast how much time players would be spending in each genre, and the information they'd need immediately to hand. In village building for example, resource stock levels are important, but when you are out in the wilds with your
Hero Party
, they aren't. Taking into account the complex nature of the economy and number of resources, it wasn't feasible to pack them all into a static top bar ( we tried! ). So we're adding an expand/contract toggle to show a separate resources dialogue that if you choose you can leave open permanently should you wish.
We've taken the Special Abilities / Portrait UI from the bottom left of the Tutorial and condensed it further, adding in new features at the same time. Under Misc Controls & Info we've added an
Aggressive/Defensive
Toggle to exert greater control over your villagers, preventing them from charging into combat, and the
Auto-AI Toggle
to place special abilities under AI control. Hardcore players will want to turn this off and have full control of heroes, but for your first few sessions it's a helpful feature to reduce micro-management during battle.
We're also adding short cuts for
Health and Power Potions
providing direct access to your global inventory stocks during combat, making it faster to save your villagers from death.
The Character Sheet has been condensed by removing personal storage ( not required when you have global inventory ) and adding Resistances. There are also tabs for professions ( workers ) and special abilities ( heroes ).
As your
Heroes
level up, you can spend
Ability Points
on powering up their abilities in the order that you prefer. By level 20 you will have a fully powered hero.
With more economy buildings and resources added each month, the new
Building Dialog
provides control over each building and it's role in the economy. We're adding a second way of training Peasants in professions through the
Worker Tab
. You can now review a list of candidates and hire them into available vacancies. For players not wanting to micro-manage,
Auto-Recruit
can be set and will automatically hire from the pool of Peasants as they become available.
Character Traits
make Peasants more or less suitable for each profession.
The
Production Tab
crunches a number of stats and presents them in an easy to understand format.
Worker Productivity
is the average of how effective all the workers are, taking into account
Profession Experience
,
Tool Bonuses
( Loot and Crafted Gear ),
Traits
, and overall
Happiness
.
Maximum Output
is determined by how many sources of resource exist in the building's
Influence Radius
, and the current tier of the building.
Workbench Bonuses
act as a multiplier to the Maximum Output, and can be obtained by installing Workbenches to the inside of each production building.
Actual Output
is calculated by combining the three previous stats, and can be split between production ( producing more finished goods ) and research ( adds points to the research pool to be later spent on new technology ).
One of the recurring pieces of feedback we've received from the Tutorial is that finding your villagers can sometimes be tricky. To improve discoverability, we're implementing the
Civics Dialog
, a central view of all the activity going on in your village. From here you can view everything that's going on with your villagers, buildings and resources, allowing you to quickly identify any problem areas.
Art Assets - Characters
The Art Team have entered a period of polishing up leading up to Patch 0.3 ( a few more 0.2.x releases to come yet ), so a lot of production work is the boring stuff like adding physics colliders, navmeshes, and level of detail ( LOD ) models. That's not at all interesting for a blog, so instead we have the male and female Sandbox versions of the
City Watch
( formerly Militia ),
Monks
and
Stonecutters
.
Feature Icon
7 comments
Read more
Reviews
"Folk Tale looks like a marvelously ambitious fantasy city-builder – featuring fully explorable building/dungeon interiors and an adventure-focused RPG component – with some admirably silly humor to boot."
– Rock Paper Shotgun

"Folk Tale has some interesting ideas and a sense of humour."
– PC Gamer
Notice
Folk Tale contains edgy humor that may be considered inappropriate for children or sensitive audiences.
About the Game
Folk Tale is a sandbox fantasy city-builder strategy game in which you lead a ragtag band of peasants in growing a small settlement into a thriving market town, while dastardly minions plot your downfall. Sound the rallying call and head out into the wilds with parties of heroes to fight back the tide of evil in a game of endless possibilities.
Rule with tyranny and oppression, or liberalism and justice. Play as a merciless expansionist hell-bent on destruction, or as a gold-hoarding mercantilist who'll sell their own grandmother for a handful of coin. With random events and dynamic story, in Folk Tale you never know how the story will unfold.
Planned Features
Rich and varied gameplay including building your own impressive settlement and economy, defending your city from attack, exploring a rich and diverse world, raiding dungeons, and immersing yourself in the lives of your villagers as they become drawn into their own story lines;
Beautiful stylized graphics with voice-acted characters and fully animated quest/story cinematics;
Download community-designed custom worlds, or create your own using the editor to share with friends or the wider community;
Collect resources and loot corpses for ingredients to be used in crafting;
Tongue-in-cheek humor for a refreshing blend of fantasy;
Endless hours of sandbox fun with random events within a dynamic story framework;
Multiple camera modes for a variety of play styles with massive zoom-in to enjoy the detail;
Supports different styles of play, from fast-paced war-mongering to slower city management.


PC System Requirements
Minimum:


OS:Windows XP Service Pack 3, Windows Vista®, Windows 7, Windows 8

Processor:Intel® CoreTM2 Duo 2.4 Ghz or better, AMD AthlonTM X2 2.8 Ghz or better

Memory:4 GB RAM

Graphics:DirectX 9 compatible with 512 MB video RAM or better (NVIDIA GeForce GTX 460 / ATI Radeon HD 5850)

Desktop Resolution:1280x720

DirectX®:9.0c

Hard Drive:707 MB HD space

Sound:Windows compatible sound card
Recommended:


OS:Windows Vista®, Windows 7, Windows 8

Processor:Intel® CoreTM2 Quad 2.7 Ghz or better, AMD PhenomTM II X4 3 Ghz or better

Memory:4 GB RAM

Graphics:NVIDIA® GeForce® GTX 560 or better

DirectX®:9.0c

Hard Drive:707 MB HD space

Sound:Windows compatible sound card
Mac System Requirements
Minimum:


OS:OS X 10.7.5 or higher. OS X 10.8.0 or higher

Processor:Intel Core 2 Duo

Memory:4 GB RAM

Graphics:GeForce GT 650M 512MB, Radeon HD 5770 1GB, Alpha may run slowly on Intel integrated graphics chipsets

Desktop Resolution:1280x720

Hard Drive:1252 MB HD space
Recommended:


OS:OS X 10.7.5 or higher. OS X 10.8.0 or higher

Processor:Quad Core Intel

Memory:4 GB RAM

Graphics:GeForce GTX 675MX 1GB, Radeon HD 6970M 1 GB or better

Hard Drive:1252 MB HD space
TO THE MAXIMUM EXTENT PERMITTED BY APPLICABLE LAW, FOLK TALE IS PROVIDED ON AN "AS IS" BASIS, WITH ALL FAULTS, AND WITHOUT WARRANTY OF ANY KIND, AND GAMES FOUNDRY LIMITED HEREBY DISCLAIMS ALL WARRANTIES AND CONDITIONS, EITHER EXPRESS OR IMPLIED, INCLUDING, BUT NOT LIMITED TO, THE IMPLIED WARRANTIES OF MERCHANTABILITY, SATISFACTORY QUALITY, FITNESS FOR PURPOSE, OF ACCURACY, OF QUIET ENJOYMENT, AND NON-INFRINGEMENT OF THIRD PARTY RIGHTS. YOUR USE IS AT YOUR SOLE RISK. BY USING THE SOFTWARE, YOU ARE AGREEING TO THE TERMS OF THE END USER LICENSE AGREEMENT AND AGREE TO BE BOUND BY IT. THE LATEST VERSION CAN BE FOUND AT WWW.GAMESFOUNDRY.COM/EULA. © 2012-2014 GAMES FOUNDRY LIMITED. ALL RIGHTS RESERVED.
Helpful customer reviews
Title:
Folk Tale
Genre:
Early Access
,
Indie
,
RPG
,
Simulation
,
Strategy
Developer:
Games Foundry
Publisher:
Games Foundry
Release Date:
May 30, 2013
Languages:
| | Interface | Full audio | Subtitles |
| --- | --- | --- | --- |
| English | | | |